LED lights are becoming the norm in all types of spaces, including modern offices. They are known to be more affordable, durable and safe than any other lighting on the market. Their popularity continues to grow. LED lights were included in 9% of commercial buildings in 2012, compared to 44% in 2018, according to the EIA.
If you're wondering about the benefits of LED lighting and the costs and savings, don't worry; we've got you covered.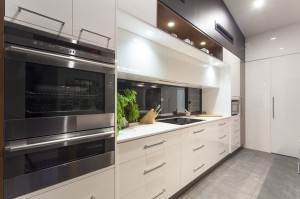 Eco-friendly
LED lights are more eco-friendly because they don't contain any toxic materials, making them easy to dispose of. They're also recyclable, unlike their fluorescent counterparts, which include mercury. If you're committed to helping the environment in any way you can, going for eco-friendly LED lights is a smart idea.
Increase Employee Productivity
Employees don't enjoy coming to a workplace that doesn't have enough natural light or relies too heavily on fluorescent lightbulbs. Some studies have suggested fluorescent light can increase the risk of depression and anxiety in the workplace.
Luckily, LED lights are the closest electric light we have to real sunshine, leading to a boost in employee mood and productivity.
Work in Extreme Weather Patterns
Unlike other lighting options, LED lighting works perfectly in cold settings because they don't have a warm-up time. They deliver a superior lighting experience no matter the time or place.
If you live in a region of the U.S. that has cold winters, you may be ready to upgrade your office to LED lighting.
Cost Savings
LEDs get the job done without consuming an unnecessary amount of power. Eighty percent of the energy consumed by LED lights is converted to light energy, with the other 20% being released as heat. Because of this, you'll see a significant increase in money being put into your pocket when you check your monthly utility bill.
LED lights also have a longer life expectancy because they last up to 50,000 to 100,000 hours depending on how often you use them.
Safe for Everyone
LED lights are completely safe for everyone because they give off less heat, making them healthy for all employees. If an employee happens to accidentally touch a lightbulb in the workplace, they won't have any injuries or harmful long-term effects.
If you're ready to improve your office space and invest in some upgrades, visit our website. We look forward to hearing from and working with you!